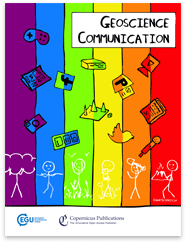 Executive editors: Sam Illingworth, John K. Hillier, Solmaz Mohadjer & Kirsten v. Elverfeldt
eISSN: GC
2569-7110
, GCD
2569-7439
Geoscience Communication (GC) is a not-for-profit journal to help share knowledge and give more "traditional" recognition to science communication in the geosciences. Science communication is used as an umbrella term by GC to cover all aspects of outreach, public engagement, widening participation, knowledge exchange, and any other initiatives within the scope of the journal. It can be thought of as any initiative which seeks to communicate an aspect of geoscience to a wider audience than the experts within that particular field.
An editorial written by the executive editors, and which explains in detail how to prepare a manuscript for Geoscience Communication, can be found here: https://www.geosci-commun.net/1/1/2018/
News
30 Jun 2023
Release of journal metrics 2022
The journal metrics 2022 were released. Please find further information on the journal metrics page.


27 Jun 2023
Referee nomination improved
To offer our journal editors a better service and an improved experience in our online system, we have significantly improved the referee nomination tool in our review system Copernicus Office Editor. Experience more and take a look.


12 Jun 2023
Enhance your peer review skills with the EGU training in September/October!
Looking to gain experience and boost your confidence as a referee? Apply for the EGU peer review training, and gain valuable insights into the peer review process. EGU is offering FREE online training in which you'll learn about the role of peer review in the publication process, in addition to review criteria and open peer review, and get hands-on experience in writing reviews. To find out more and apply, visit https://www.egu.eu/news/967/egu-peer-review-training-workshop-apply-now/.

Recent papers




Highlight articles