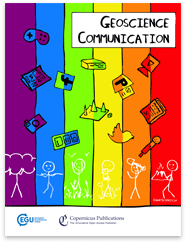 Executive editors: Sam Illingworth, John K. Hillier, Solmaz Mohadjer & Kirsten v. Elverfeldt
eISSN: GC
2569-7110
, GCD
2569-7439
Geoscience Communication (GC) is a not-for-profit journal to help share knowledge and give more "traditional" recognition to science communication in the geosciences. Science communication is used as an umbrella term by GC to cover all aspects of outreach, public engagement, widening participation, knowledge exchange, and any other initiatives within the scope of the journal. It can be thought of as any initiative which seeks to communicate an aspect of geoscience to a wider audience than the experts within that particular field.
An editorial written by the executive editors, and which explains in detail how to prepare a manuscript for Geoscience Communication, can be found here: https://www.geosci-commun.net/1/1/2018/
















Notice on current restrictions
To show our support for Ukraine and in accordance with current European sanctions, we have introduced a range of measures relevant to our open-access publications process.
All fees for papers from authors (first, corresponding, or contact authors) affiliated to Ukrainian institutions are automatically waived, regardless of if these papers are co-authored by scientists affiliated to Russian and/or Belarusian institutions. The only exception to the waiver for Ukrainian authors will be if the corresponding or contact authors are from a Russian and/or Belarusian institution, in that case the APCs are not waived.
Due to restrictions for authors from Russian and Belarusian institutions that are necessary to comply with European sanctions, we recommend any authors from institutions in these countries to contact us on editorial@copernicus.org for more information.